DEVELOPING WELL ROUNDED PROFESSIONALS
The Seahorse Philosophy has identified 7 common characteristics that are found within strong professionals and a Seahorse.  Seahorse Coaching takes individuals through a 360 degree analysis program and then works with the client to target the areas most in need.  As each of the 7 characteristics are improved, the client's impacts of success can also see improvement.
SUBSET OF SEMINARS & TRAINING (ANY PROGRAM CAN BE CREATED OR CUSTOMIZED AS NEEDED)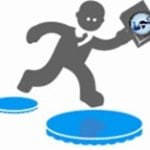 STEPPING STONES
STEPPING STONES
GOAL MANAGEMENT WORKSHOP
This module helps provide a stronger understanding of how to set clearly defined goals, establish success metrics and have a growth plan associated with established goals.

PEAK PERFORMANCE
PEAK PERFORMANCE
PERFORMANCE ENHANCEMENT WORKSHOP
A seminar to ensure professionals have a complete understanding of how to have the strongest performance.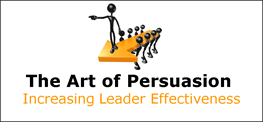 THE ART OF PERSUASION
THE ART OF PERSUASION
INFLUENCE SEMINAR
This module takes participants through the types, techniques and steps to effectively persuade others.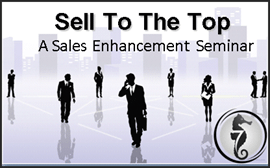 SELL TO THE TOP
SELL TO THE TOP
SALES ENHANCEMENT PROGRAM
This module focuses on the understanding, approach, and keys to a successful close or sale. It's not only the technique that sells, it's understanding the clients.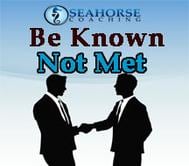 BE KNOWN, NOT MET
BE KNOWN, NOT MET
EFFECTIVE NETWORKING PROGRAM
This module is a must have for any professional looking to network. Many people use networking to gain business but few understand the real way to make a connection and be recommended.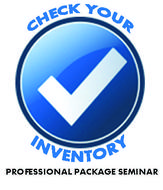 CHECK YOUR INVENTORY
CHECK YOUR INVENTORY
THE COMPLETE PROFESSIONAL PACKAGE
This module ensures you have a complete professional package and know how to use it. Components included cover perception, attitude, attire, resume', experience, networking and goal management.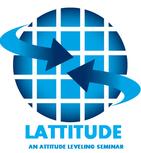 LATTITUDE
LATTITUDE
AN ATTITUDE LEVELING WORKSHOP
This seminar is designed to help a professional not only understand where their attitude is normally but how it can be optimally adjusted for various situations. Components include an attitude test, understanding the complexities of attitudes and identifying the triggers.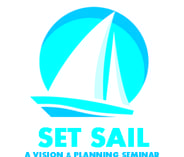 SET SAIL
SET SAIL
VISION AND PLANNING SEMINAR
This seminar helps attendees identify incorporation techniques for strategic vision in life and career, short and long-term planning and helps to identify motivation methods ensuring action is taken toward maintaining on the path to reach the desired targets.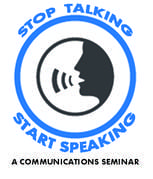 STOP TALKING, START SPEAKING
STOP TALKING, START SPEAKING
COMMUNICATIONS SEMINAR
This seminar helps attendees determine whether they are communicating effectively when they talk and will gain new techniques that will generate active responses.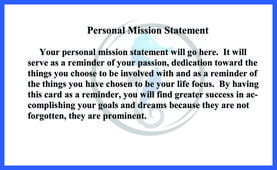 BLOSSOM YOUR PURPOSE
BLOSSOM YOUR PURPOSE
PERSONAL MISSION FINDING PROGRAM
This program takes a methodological approach to help each person identify what they really want out of life as an individual, in their career, and with their family.  Upon completion of this activity, each person receives a business card that reminds them what is prominent in their life's ambition.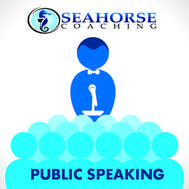 PUBLIC SPEAKING WORKSHOP
PUBLIC SPEAKING WORKSHOP
PREPARES PARTICIPANTS FOR PUBLIC SPEAKING
This program can be run as a 30-minute overview of the basics in public speaking or take participants through a 10-hour speaking development workshop.  In today's professional world, the ability to be an effective speaker is crucial.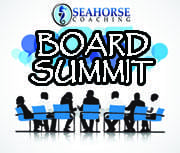 BOARD DEVELOPMENT SUMMIT
BOARD DEVELOPMENT SUMMIT
IMPROVES ORGANIZATIONAL STRUCTURE
This workshop is geared toward helping individuals and organizations understand the role of a Board of Directors. Completely customizable to meet the demands of individual boards or help guide them through Strategic Planning.  This can be a one-time program or created as a continuous development program but building upon the prior session ensuring steady success.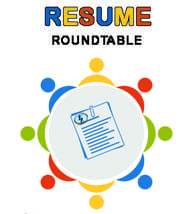 RESUME ROUNDTABLE
RESUME ROUNDTABLE
A RESUME EDUCATION EXPERIENCE
This roundtable provides key components of a strong resume, examples of resumes and provides group activities that help resolve the things that cause the most stress when writing a resume.  Tips and suggestions to help attendees create a resume sure to drive interest toward an interview as well as demonstrate the best way to provide a balance in experience yet versatility, for growth, will be provided.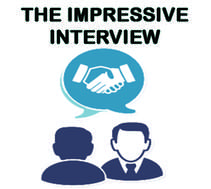 THE IMPRESSIVE INTERVIEW
THE IMPRESSIVE INTERVIEW
INTERVIEW PREPARATION SEMINAR
This interview seminar will guide you through all the components needed to ensure you provide an impressive interview. This program will take you through a variety of preparation components such as how to research a company, preparing for the listed position, dressing appropriately, things to have available, as well as conducting salary and benefit negotiations.
Don't see the training you're looking for? No problem! Seahorse
Coaching can customize a program catered to your developmental needs.